amer

wrecka

Table Of contents
DAWN OF THE GRYPHON
CHAPTER ONE: In Order To Form A More Perfect Union
CHAPTER TWO: The Search For The Elusive "Elekey"
CHAPTER THREE: Only A 'RINO' Can Win
CHAPTER FOUR: The American Crises
THE GREAT AMERICAN SOLUTION
CHAPTER FIVE:
Trumped
CHAPTER SIX:
The Declaration Of Energy Independence
CHAPTER SEVEN:
Fourteen Pounds Of Sugar
CHAPTER EIGHT:
How Healthcare Can Be Free
CHAPTER NINE:
The Pettibone Paradox
THE AMERWRECKERS
CHAPTER TEN: Wake Up America!
CHAPTER ELEVEN: Fast And Spurious
CHAPTER TWELVE: Blame It All On Eliot
CHAPTER THIRTEEN: The Charter Oak Affair
CHAPTER FOURTEEN: The Section 6708 Affair
CHAPTER FIFTEEN: The Most Dangerous Man In America
CHAPTER SIXTEEN: A Government Of Cowards
CHAPTER SEVENTEEN: An Open Letter To Eduardo Saverin
THE GRYPHON PRESIDENCY
CHAPTER EIGHTEEN:
The Gryphon Acceptance Speech
CHAPTER NINETEEN:
The Gryphon Inaugural Speech
CHAPTER TWENTY:
Memo for the New President
The Gryphon Postscript
AMERWRECKA:
The Gryphon Postscript
All Profits from Sales of AMERWRECKA will be Donated To Charity.

MAYBE YOU'VE SEEN OUR AD IN THE
NEW YORK TIMES?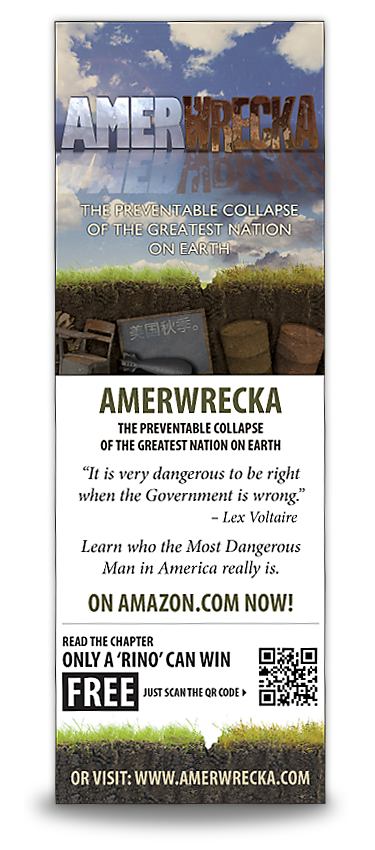 SEE OUR POLITICAL ADS IN THE HARTFORD COURANT